Cypress Homecare Solutions is the premier trusted homecare company in Arizona committed to quality, finding solutions, and exceeding their clients' expectations. They strive to be the Arizona's best homecare agency and to be recognized as the best by both the caregivers and their clients. Cypress sets itself apart from other homecare agencies by being one of the only homecare agencies in Maricopa County to provide in-house training in the Joan S. Roth Caregiver Training Lab. They pride themselves on the quality of caregiver training; assuring they carry out the best in-homecare services for clients and their loved ones. Cypress strives for excellence by ensuring they have individualized compassionate service, specialized training, and programs designed to achieve optimum support and guidance for those they serve.
Challenge: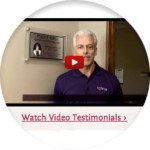 The challenge that Cypress was faced with was the growing number of competitors in the marketplace. Cypress chose Fasturtle to assist with their digital marketing needs by revamping their outdated website and improving their online presence. Fasturtle set a goal to increase Cypress Homecare Solutions' overall brand awareness online and ranking results on major search engines, which would then contribute to higher lead generation. Another concern was the inefficient website navigation for caregivers versus care seekers. Both applications channeled to the same place increasing the number of administrative hours for sorting through the respective forms.
Solution: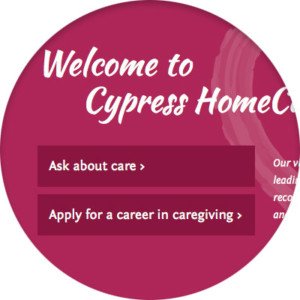 Deeper, more meticulous, website analysis
Search traffic analysis
Competitive review
Cost/acquisition discussion
Custom Fastsite website program
Increase the number of custom pages, to:

Increases the visibility of their expertise in the industry by showcasing multiple benefits and services that go beyond the basic service page
Increase in their Google rank based on sheer number of additional pages and position them as an expert in the industry in eyes of clients and peers
Create an easily identifiable graphic on home page and subpages to aid in the ease of navigation through the website
The distinct graphics will help direct caregivers to an online application and care seekers to an online custom inquiry form

Copywriting with keyword saturation
Include SEO in content marketing and social media integration
YouTube video integration which allows management to quickly communicate their marketing and sales message
Develop a mobile website to capitalize on increased mobile search volume and increased mobile ranking
Result:

The innovative, custom, award winning website now exemplifies their passion for in-homecare. That warm feeling you get when you visit their site expresses that they really are a company that provides compassionate care in peoples' homes. The optimized content and keyword saturation used throughout their website has increased traffic to their site. Sessions on the site have increased by 14.37% in a short six month period from January – June 2015; this has also led to the 31.66% increased duration on the website. With such a significant increase in time spent on the page, the increase in engagement with potential customers has also grown rapidly. Cypress has seen a 17.67% increase from referral traffic and an astonishing growth in social traffic, a 90.91% increase! Fasturtle provided Cypress with a soft, sleek, and comprehensive design which emphasizes their mission and values that has been instilled in visitors to the website. The company has also seen a decrease in administrative costs by having an easily identifiable application process, directing caregivers to an online application form versus care seekers who are directed toward an online custom inquiry form. Fasturtle was able to use their knowledge and provide expertise in digital marketing to aid Cypress in seeing increased measurable results to their online presence, search engine rankings, and brand awareness.