The regional tire chain boosted promotional sales by 2.1X after using local awareness ads to efficiently advertise its tire deal to people living near each store.
Tire Discounters is a family-owned and operated tire and auto-service business with 100 locations across 5 states. The customer service-oriented business prides itself on its higher standards for tire install, maintenance and repairs.
Tire Discounters used local awareness ads to reach people near each of its locations. Local awareness ads allow businesses to create a single ad set for multiple locations at a time. The ads reach audiences in specific areas, showing people locally relevant information that varies depending on where they live.
To create its campaign, Tire Discounters created an ad set in Power Editor with a local awareness campaign objective. It selected all 100 stores and set a radius for geographic targeting around each.
The Tire Discounters local ad campaign reached people around each of its location efficiently—and with the right local information—helping to drive more sales. The March 1–31, 2016 campaign resulted in:
2.1X lift in promotional sales during campaign period
332,000 reached
1,400 conversions (someone completing 2 or more actions on the website)
2.1X lift in promotional sales

1,400

website conversions

Founded in 1968, Royal Caribbean sails to more than 288 destinations in 77 countries and demonstrates a legacy of innovation. The company recently launched its newest ship, Harmony of the Seas, which features robotic bartenders, a zip line and the tallest slide at sea.
The company wanted to increase awareness of its new ship, Harmony of the Seas, especially among people who may have never cruised before, boost engagement and encourage people to enter its sweepstakes for the chance to win a free cruise.
To boost awareness and generate excitement about the new ship's launch, Royal Caribbean worked with R/GA and MediaHub to develop a Canvas that paired amazing stats about the ship's size, staff and amenities with beautiful panoramic images and exciting video clips. People could scroll through the Canvas and experience everything from the ship's 10-story water slide to its robotic bartenders, luxurious suites and breathtaking views.
The opening screen encouraged people to scroll through the Canvas and enter a sweepstakes for their chance to win a free cruise on board the largest ship in the world. The final screen of the Canvas showed an access code and link to enter the sweepstakes.
To ensure it reached the right people, Royal Caribbean employed a phased targeting strategy for its ongoing campaign. The brand first reached people aged 18–54 with interests in travel and travel apps, cruise lines, travel inspiration and wanderlust. It then built a lookalike audience based on the people who had engaged with the Canvas. This approach helped it efficiently reach a qualified audience.
Finally, the company used Ads Manager, as well as third-party tools like DoubleClick and Omniture, to measure the results of the mobile ad campaign.
72 seconds average time spent with the Canvas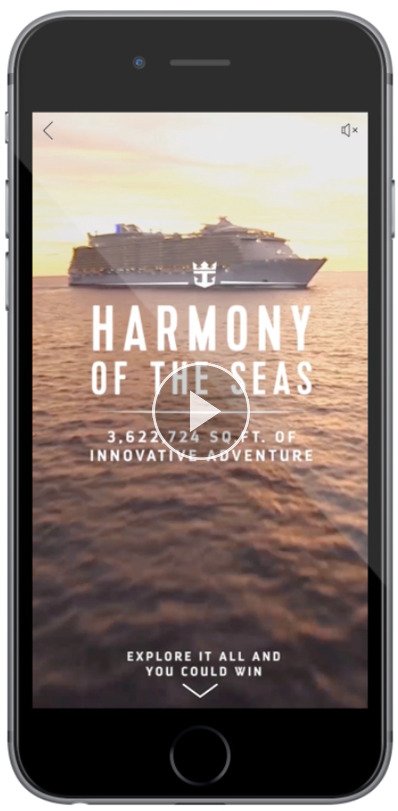 The San Antonio Spurs, started in Dallas in 1967, joined the National Basketball Association (NBA) in 1976, becoming the league's 25th team. The Spurs have gone on to win 21 division titles, 6 conference titles, and 5 NBA championships.
The professional basketball team wanted to efficiently boost individual ticket sales throughout its 2015–2016 season. The team also wanted to gain a deeper understanding of the types of ad creative and brand messaging that worked best.
The San Antonio Spurs partnered with digital agency Elite SEM to run simple link ads to test different creative and messaging options to increase individual ticket sales during its 2015–16 season.
Each month, the team tested different creative elements in its ads, including exciting images of its star players and the team's logo. The Spurs also tested various messaging, including information specific to particular games and dates, and notes relaying the urgency of purchasing tickets in advance of more popular match-ups.
35% decrease in cost per conversion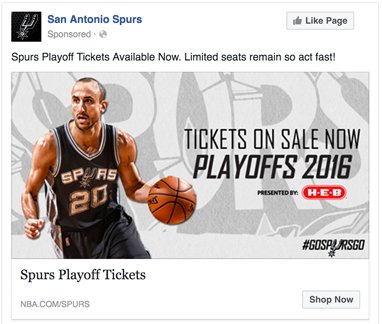 A world leader in personal technology and GPS products, Garmin launched its innovative fēnix 3 Sapphire watch in 2015, fusing fitness and navigation features with rugged good looks to appeal to stylish outdoor enthusiasts.
Garmin wanted to build brand and product awareness to generate interest and spur online sales of the new watch. The Garmin team had a 2X return on ad spend target in mind.
To launch its fēnix 3 multi-sport watch, Garmin created a comprehensive campaign, starting with Instagram brand awareness ads, followed by conversion-boosting strategies on Facebook.
Garmin chose attention-grabbing video ads for its Instagram campaign. The creative featured colorful, high-energy outdoor lifestyle footage, designed to perform in News Feed without sound and highlight both the visual appeal and functionality of the fēnix 3. The videos showed the timepiece in action, both in day-to-day and extreme sporting situations.
The team then retargeted a series of Facebook ads to Custom Audiences based on people who had viewed the videos or clicked through to the website. Garmin also created a lookalike audience to reach people similar to those who had already purchased online. Garmin chose link ads in carousel format for its Facebook campaign, because the multi-image format was ideal for showing product close-ups and highlighting specific features.
The company used a Facebook pixel to monitor ad engagement and the effectiveness of the videos, from views through to conversion. Garmin optimized the Instagram ads for video views and web traffic, and tracked the Facebook ads for conversions. To reach the broadest possible audience, the team ran the ads in both Facebook and Instagram News Feed, plus the Audience Network.
$0.01 cost per view, on average

1.8% click-through rate, on average