SEO and PPC: a Powerful Combination
Are you thinking of partnering with a Phoenix or Scottsdale SEO agency and putting PPC advertising to work for your business? Here's how to do both –and see twice the bang for your buck.
How Does PPC Marketing Work?
The PPC marketing model is one that follows the pay-as-you-go principle that has become so popular with American consumers. A business pays a website a small fee each time one of their ads placed on that site is clicked. By paying only for when the ad is followed through to the advertiser's site, the advertiser saves some money – and the consumer who clicks through to the company's site feels more like they got there organically.
Combining PPC with SEO
SEO – search engine optimization – is the number one way today's businesses remain relevant to consumers. Whenever a person wants something in the modern day, they search for it online. From auto repair to restaurants to medical care and beyond, almost every good or service purchase has the potential to start with an internet search.
This is why search engine optimization is so important. When a company's website has been optimized to appear near the top of a search engine results page, consumers are much more likely to click through to that site. Not only that, they are more likely to feel that the products or services being offered there are relevant to their search, and therefore relevant to their needs or interests. It creates a more organic experience for the consumers, and more business for the companies who utilize it. Talk about wins all around!
How Does It All Add Up?
Now, you may be wondering – what does that have to do with PPC marketing? As any decent digital marketing agency will tell you, the two marketing approaches have everything to do with one another. Many search engines offer bidding for companies who want to advertise their pages near the top of search results. While they do clearly mark these paid results as advertisements in the interest of transparency, most consumers are still likely to follow these links to the advertiser's website. This means that PPC advertising – combined with the organic feeling of SEO – can yield huge boosts in web traffic, conversion, and sales for companies who know how to put both to work for them.
Wondering how to do the same for your business? Contact Fasturtle Digital, the leading Phoenix and Scottsdale PPC agency. We bring together the worlds of PPC and SEO to create an experience that will leave your customers feeling like they lucked into finding you – and leave you with better numbers from visits to sales.
How is your website currently performing?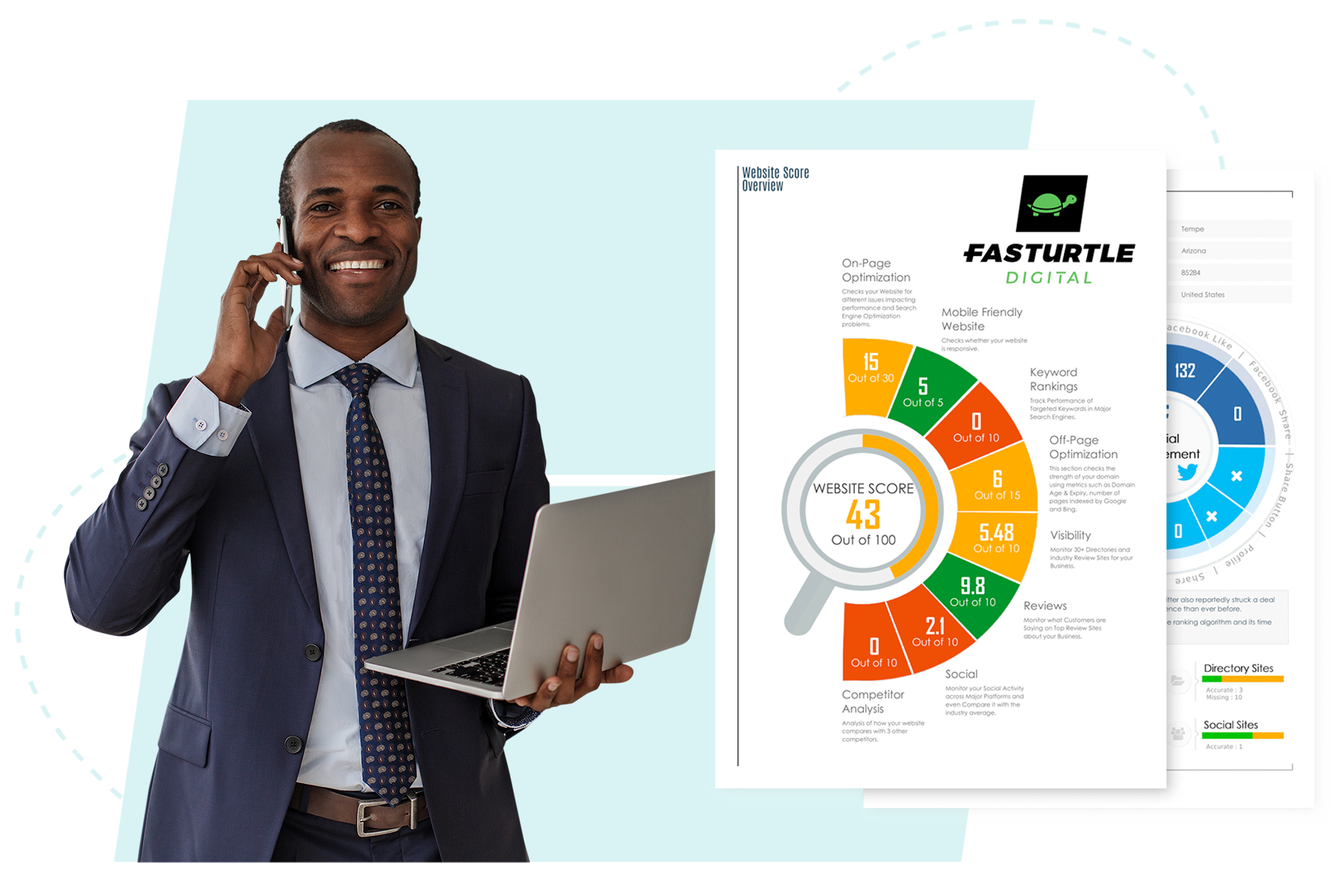 Our complimentary audit details your Competitor Analysis, Social Media Engagement, Keyword Rankings, and more!
Is your current marketing strategy getting you
quality leads

?