From #Hashtags to @Mentions, Social Media has woven itself into the fabric of Businesses Brands
Propelling growth by dynamically curating experiences to each individual and compelling context in a seamless manner across all social channels is a fundamental must for businesses in today's socially-empowered world.  The Fasturtle Social Media program is engineered based on specific KPI's your business seeks to achieve while growing customer acquisition, retention, and increase share of voice.  Social Media is the NOW communication platform by which society resonates, engages and makes decisions on.  Depending on how well or not, your business social ecosystem is managed, will determine the outcome of which can translate into serious gains and customer loyalty. While a majority of businesses are attempting to use social networks (Facebook, Twitter, Instagram, Snapchat, Google+, LinkedIn, Pinterest, etc.) they often struggle with the science of understanding the complexity and knowledge base needed to achieve the desired outcomes.  Things like best time to post, audience persona targeting, when to initiate boosted posts, or using look-a-like audience pairing are some examples that the social media experts at Fasturtle help to build out while we manage or co-manage these channels with our clients.
It's harder than ever for brands to be heard above the white noise of chatter in the marketplace. We help companies achieve customer relevance at scale and superior business performance through the careful application of social media based business strategy and an integrated customer-centric demand-driven approach.
Let Fasturtle put our blend of insight, experience, assets, and expertise to work for you so that you can become a social media engaged business – and see tangible ROI driven results.
What Social Networks Provide the Best ROI?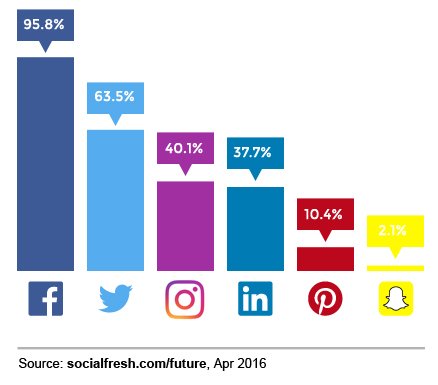 The Fasturtle social media marketing program seeks to identify, analyze, create, innovate and disrupt the competition.  We help by creating great opportunities where technology meets business. Through asset-powered agility, Fasturtle continually drives client value through innovation—mastering disruption by perceiving, deciding and executing faster than the rest.  Strengthening your relationship with your customers, reaching new audiences and engaging in the omni-channels of social will make for a successful outcome.
Our Social media program will amplify your market breadth; engage with target audiences, increase client service, and build loyal followings that produce repeat buying and invaluable reach. Social Media is a way to connect many customers in a wide area and keep them thinking about your business. Your business needs a proper plan to take advantage of the ongoing new social channels culminated with the technologies behind them. By combining social business acumen with technical expertise, Fasturtle will lead your business down the path to social media success.
We understand that no two companies are the same. This is why we will work with you to design a social media strategy that seeks to achieve your objectives with the ability to empower the right parts of your enterprise, while still keeping the controls needed to manage risk and maintain quality.
Social Media Marketing
Too much on your plate to promote your business on social media but want to stay connected with your customers? Let Fasturtle design, execute and measure a holistic social marketing plan for you that makes sense.
Improve customer engagement at every stage of their experience cycle – with new and innovative social media marketing solutions.  Fasturtle's social media marketing programs can transform your business social presence & amplify your brand loyalty, collaboration, and authority. Customer engagement is about conversations, and great conversations happen when you know who you're talking to. We work to target the sweet spot that turns data into meaningful customer insight.